Example trips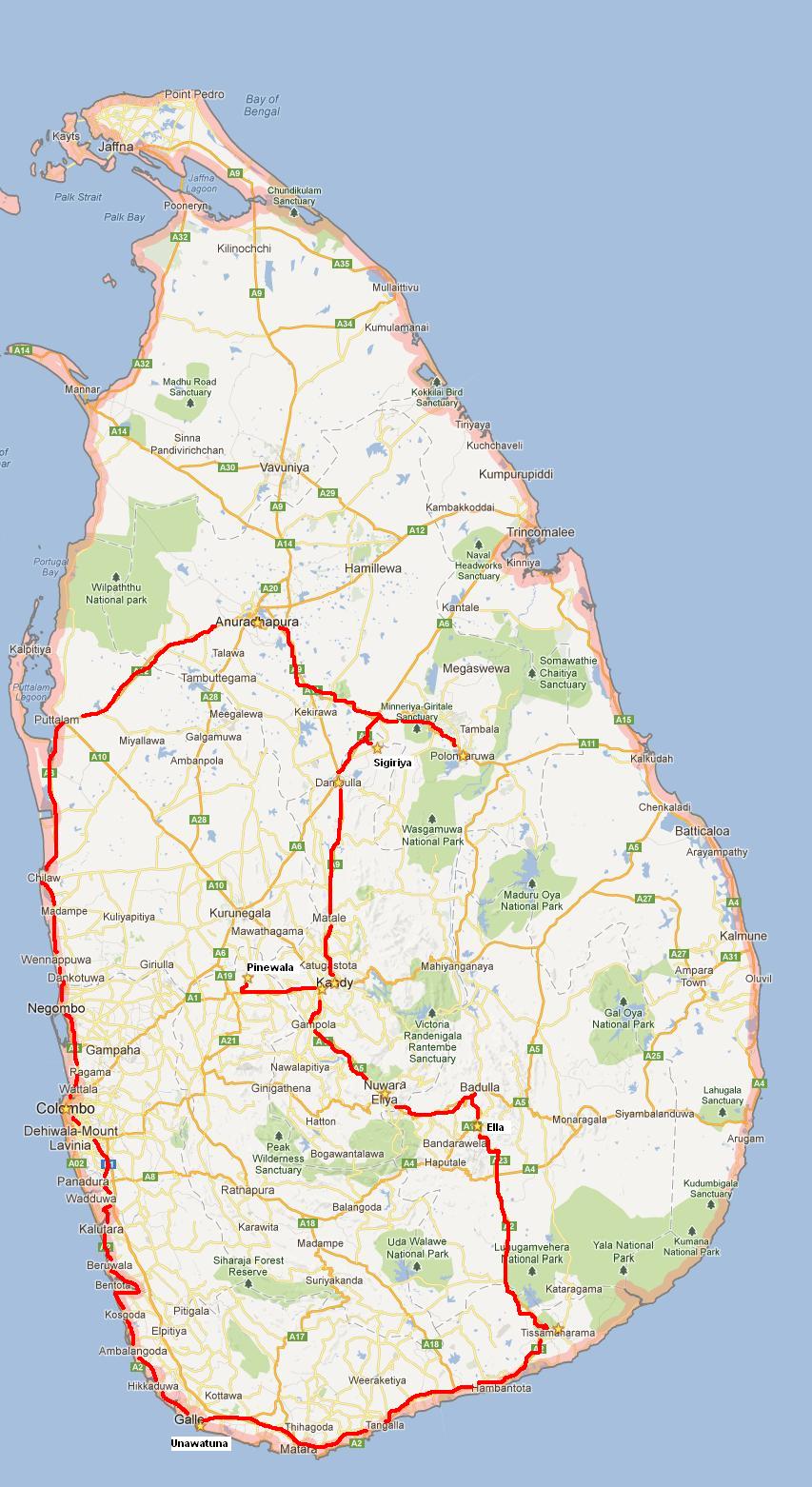 First of all: My service depends on your needs. I can propose several tours but all is according to your special desires. I have a variety of tours set up for visitors to my country. Depending on your wishes, I offer tours of a variable duration of days. For example, you can choose to do just a 4 oder 5-day trip with me or you can travel with me even two or three weeks. Check out my example of a nice 10-day trip.
Price info
I offer all my tours at a very good and reasonable price. Unfortunatenly, I cannot publish any details due to the strong variation of fuel price and other costs. Please sent me a message with details of your trip and stay in Sri Lanka and I will provide more informations about the costs of a tour according to your wishes.
Cultural triangle tour
For example, if you are interested in the cultural triangle, my 4/5-day-trip would be good. I will pick you up at Colombo or at Peradeniya Railway Station and proceed north. You will have accomodation at Anuradhapura for the first night and see the city the next day. Then you drive to Pollonaruwa and see the city the next day. On the third day he will take you to Sigirya Rock. In between you will have the chance to see Matale and other places around. Especially I am eager to show special and hidden places to you that you will not find in the common tourist guide books. See also: Individual tour.
Beaches of the south and Safari
You can do this as an own tour or as a port of a bigger tour (for example after the tour to the cultural triangle). I wil lead you to the best beaches of the south. You will have the chances to enjoy the sea and the best beaches and according to your wishes there is a good opprtunity to do some Safari and wildlife as well.
Colombo and the West
Visit Colombo and its best places and the surrounding area with beaches and some cultural buildings and temples. On this trip I can pick you up at Colombo or the airport or wherever you want and afterwards you can proceed with the cultural triangle for example.
Cars and Accomodiation
As for every of my tours you can choose which kind of car do you want (street car vs SUV vs. luxury car, with/without air condition) and the type of accomodation and food (guest house vs. middle class hotel vs. luxury hotel).
Map: Copyright Google.de (Screenshot taken from Google Maps)
---
Day ---1   Pick up from the air port and drive to Anuradhapura. Visit site seen from out.
               Night Anuradhpura.
Day--- 2,  Visit Anuradhapura ancient city and drive to polonnaruwa, 
               Night Polonnaruwa,
Day--- 3,  Visit Polonnaruwa ancient city and drive to Sigiriya,
                Night Sigiriya,
Day---4,   Visit Sigiriya fortress , Dhambulla cave temple, Matale Aluvihare, and Hindu
               temple, after drive to Kandy, Night Kandy.
Day---5,   Kandy city tour, Visit Elephant orphanage, Botanical garden, View point, Tooth
               temple, Cultural shore, Night same,
Day---6    Drive to Nuwara Eliya, Visit Tea plantation, Tea factory, Water falls,
               Night Nuwara Eliya.
Day---7,   Go to Ella by train. Night Ella,
Day---8,   Around Ella, Visit Ella rock, Little Adam,s peak,
               Night same,
Day---9,   Drive to Tissamaharamaya, Visit Water fall, Bhuduruwagala temple, afternoon
               Yala safari by jeep. Night Tissa.
Day---10, Drive to any south beach visiting site seen.